OBSTETRICS AND GYNECOLOGY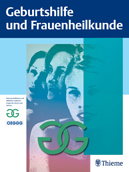 News
---
GebFra in eRef App
Nutzen Sie als GebFra-Abonnent Ihr Abo in der eRef App:
Sie können die GebFra bequem offline lesen – laden Sie sich einfach die Ausgaben auf Ihr Smartphone/Tablet.
Die eRef App ist eine native App für Android und iOS – sie kann mit Smartphones/Tablets wie z. B. dem iPhone und dem iPad benutzt werden.
Ab sofort steht Ihnen die ausgefeilte eRef-Suche zur Verfügung.
Sämtliche Thieme Zeitschriften, die Sie abonniert haben, bündelt die eRef App für Sie an einer Stelle.
So geht's
Hier erfahren Sie, wie Sie Ihr GebFra-Abo in der eRef App freischalten:
---
Die GebFra vergibt gemeinsam mit der Deutschen Gesellschaft für Gynäkologie und Geburtshilfe (DGGG) erneut einen Preis für die beste wissenschaftliche Arbeit. Der Preis ist durch den Verlag mit 5000€ dotiert und wird im Rahmen des DGGG Jahreskongress 2018 vergeben.
Bewerber für den Preis müssen bis zur Ausgabe 6/2018 einen Artikel als Erstautor in der GebFra publiziert haben.
Reichen Sie eine gute Originalarbeit oder Übersicht ein und werden Sie Kandidat für den GebFra Preis 2018!
---
---
Ihr Veranstaltungstermin
Auf Ihre Veranstaltung zum Thema Gynäkologie und Geburtshilfe können Sie tagesaktuell online über unsere Community für Geburtshilfe und Frauenheilkunde hinweisen. Einfach auf unten stehenden Link klicken, Formular ausfüllen, abschicken, fertig!
Imprint
Geburtshilfe und Frauenheilkunde
Volume 78
Owner
© Georg Thieme Verlag KG 2018
Executive Board
Prof. Dr. Matthias W. Beckmann
Frauenklinik
Universitätsklinikum Erlangen
Universitätsstraße 21-23
D-91054 Erlangen
Prof. Dr. Diethelm Wallwiener
Frauenklinik
Universitätsklinikum Tübingen
Calwerstr. 7
D-72076 Tübingen
Co-Herausgeber
PD Dr. Christian R. Löhberg
Frauenklinik
St. Theresien Krankenhaus
Mommsenstraße 24
90491 Nürnberg
Aktuell referiert und Der interessante Fall
PD Dr. Heiko B. G. Franz
Frauenklinik
Städtisches Klinikum Braunschweig gGmbH
Celler Straße 38
D-38114 Braunschweig
Prof. Dr. Michael Friedrich
Klinik für Frauenheilkunde und Geburtshilfe
Helios Klinikum Krefeld
Lutherplatz 40
D-47805 Krefeld
Aktuell diskutiert
Prof. Dr. Burkhard Schauf
Frauenklinik Sozialstiftung Bamberg
Buger Straße 80
D-96049 Bamberg
The Editors are not responsible for
the section "Forum der Industrie".
Publisher
Georg Thieme Verlag KG
Rüdigerstraße 14
D-70469 Stuttgart
Postfach 30 11 20
D-70451 Stuttgart
Tel.: 0711/8931-0
Fax: 0711/8931-298
www.thieme.de
www.gebfra.thieme.com
www.thieme-connect.de/products
Web-App: www.thieme.de/eref-app
Redaktion
Sie erreichen die Redaktion unter:
gebfra.impressum@thieme.de
V.i.S.d.P.: Dr. Volker Hirschel,
Rüdigerstraße 14, 70469 Stuttgart
Responsible for Advertising
Thieme Media
Pharmedia Anzeigen- und Verlagsservice GmbH
Ulrike Bradler
Rüdigerstraße 14
D-70469 Stuttgart
oder
Postfach 300880
D-70448 Stuttgart
Tel.: + 497118931-466
Fax: + 497118931-470
E-Mail: ulrike.bradler@thieme-media.de
Productionmanagement
Tel.: +497118931-539
Fax: + 497118931-393
E-Mail: andrea.hartmann@thieme.de
Copyright
This journal, including all individual contributions and illustrations published therein, is legally protected by copyright for the duration of the copyright period. Any use, exploitation or commercialization outside the narrow limits set by copyright legislation, without the publisher's consent, is illegal and liable to criminal prosecution. This applies in particular to photocopy reproduction, copyright, cyclostyling, mimeographing or duplication of any kind, translating, preparation of microfilms, and electronic data processing and storage.
NB: You will receive the copyright form automatically together with your proofs.
Subscription Information
Tel.: 0711/8931-321
Fax: 0711/8931-422
E-Mail: aboservice@thieme.de
General Information
Geburtshilfe und Frauenheilkunde (ISSN 0016-6697) is published in 12 issues per year.
Subscribers are asked to inform the publisher immediately in case of address changes in order to ensure correct delivery of the journal. All subscription orders are entered for the calendar year. The rate of subscription is invoiced in advance at the end of the year for the following year and becomes due for payment for the full calendar year. Subscriptions can be started anytime. Subscriptions are automatically extended each year unless notice of cancellation is received from the subscriber prior to September 30 of each year (applies to Germany, Switzerland, Austria only).
Online
The scientific texts of this journal are available online through Thieme-connect, http://www.thieme-connect.de. Access to Thieme-connect is free of charge for personal subscribers. For information concerning licenses and prices for institutional access, please contact Carmen Krenz, e-mail: sales@thieme-connect.de
Customers from North, Central and South America and Canada please contact Alexandra Williams, e-mail: awilliams@thieme.com
For users in the USA
Authorization of photocopy items for internal or personal use, or the internal or personal use of specific clients, is granted by Georg Thieme Verlag Stuttgart · New York for libraries and other users registered with the Copyright Clearance Center (CCC) Transactional Reporting Service; www.copyright.com
For reprint information in the USA, please contact: journals@thieme.com
Printed in Germany
Umschlaggestaltung: Thieme Verlagsgruppe
Satz: Ziegler + Müller, Kirchentellinsfurt
Druck und Bindung: Grafisches Centrum Cuno
GmbH & Co. KG, Calbe (Saale)