OBSTETRICS AND GYNECOLOGY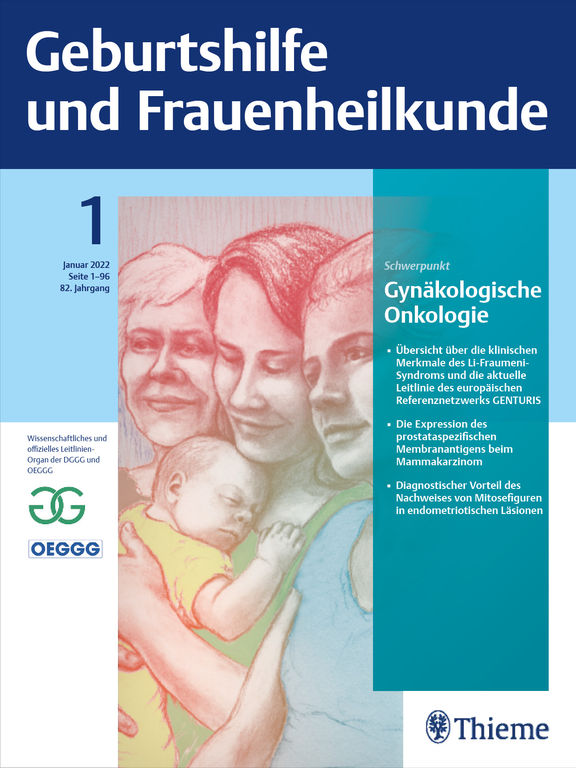 News
---
Current Impact Factor (2022): 2,7
GebFra in eRef App
Nutzen Sie als GebFra-Abonnent Ihr Abo in der eRef App:
Sie können die GebFra bequem offline lesen – laden Sie sich einfach die Ausgaben auf Ihr Smartphone/Tablet.
Die eRef App ist eine native App für Android und iOS – sie kann mit Smartphones/Tablets wie z. B. dem iPhone und dem iPad benutzt werden.
Ab sofort steht Ihnen die ausgefeilte eRef-Suche zur Verfügung.
Sämtliche Thieme Zeitschriften, die Sie abonniert haben, bündelt die eRef App für Sie an einer Stelle.
So geht's
Hier erfahren Sie, wie Sie Ihr GebFra-Abo in der eRef App freischalten:
---
---
---
Ihr Veranstaltungstermin
Auf Ihre Veranstaltung zum Thema Gynäkologie und Geburtshilfe können Sie tagesaktuell online über unsere Community für Geburtshilfe und Frauenheilkunde hinweisen. Einfach auf unten stehenden Link klicken, Formular ausfüllen, abschicken, fertig!
Aims and Scope
Since 1939, the aim of the journal has been to inform the professional community about new findings and advances in research and clinical practice. Topics from the entire spectrum of gynecology and obstetrics as well as closely related fields are addressed, thus promoting scientific exchange:
General Gynecology
Gynecologic oncology, including Breast oncology
Obstetrics and Perinatal medicine
Reproductive medicine and Endocrinology
Urogynecology
In 12 issues per year, "GebFra" offers high-quality review articles and original contributions. In addition, meta-analyses, abstracts of guidelines of the DGGG, OEGGG and SGGG as well as statements and comments are published. All articles published in the scientific section of GebFra ("GebFra Science") are subject to rigorous peer review. Web-based manuscript submission and rapid processing guarantee fast electronic publication ("ePub").
All articles of the scientific part ("GebFra Science"):
are published Open Access – under a CC-BY-NC-ND license1,
are listed in PubMed Central2 and thus available via PubMed.
1 For more information on Open Access at Thieme see: Open Access - Journal authors - Thieme Group
2 The GebFra issues can be found at: Archive of "Geburtshilfe und Frauenheilkunde". - PMC (nih.gov)
In addition, "GebFra" publishes in its magazine section ("GebFra Magazine") an overview of international research results, discussions of current topics, case reports, medical history, and also insights into practice law and health care, as well as communications from the professional society.
Further information for authors: Instructions and Forms - Thieme Geburtshilfe und Frauenheilkunde