OBSTETRICS AND GYNECOLOGY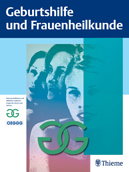 Current Impact Factor (2015): 0.931
News
---
GebFra in eRef App
Nutzen Sie als GebFra-Abonnent Ihr Abo in der eRef App:
Sie können die GebFra bequem offline lesen – laden Sie sich einfach die Ausgaben auf Ihr Smartphone/Tablet.
Die eRef App ist eine native App für Android und iOS – sie kann mit Smartphones/Tablets wie z. B. dem iPhone und dem iPad benutzt werden.
Ab sofort steht Ihnen die ausgefeilte eRef-Suche zur Verfügung.
Sämtliche Thieme Zeitschriften, die Sie abonniert haben, bündelt die eRef App für Sie an einer Stelle.
So geht's
Hier erfahren Sie, wie Sie Ihr GebFra-Abo in der eRef App freischalten:
---
Ihr Veranstaltungstermin
Auf Ihre Veranstaltung zum Thema Gynäkologie und Geburtshilfe können Sie tagesaktuell online über unsere Community für Geburtshilfe und Frauenheilkunde hinweisen. Einfach auf unten stehenden Link klicken, Formular ausfüllen, abschicken, fertig!
Welcome to GebFra
Geburtshilfe und Frauenheilkunde (GebFra) is the official organ of the German Society of Gynecology and Obstetrics (DGGG - Deutsche Gesellschaft für Gynäkologie und Geburtshilfe). This dual-language monthly publication is the definitive forum for specialists in gynecology, obstetrics, perinatology and midwifery.
Being the official organ of the DGGG, GebFra regularly informs readers about new guidelines from the society. In addition, the journal offers:
GebFra Science - English-language articles showcasing the latest research from worldwide specialists.
GebFra Magazin - A magazine section with the latest news, commentaries on international studies or discussion and view points. German language only.
Click here for a sample issue.